One Dead, Eight Injured in 'Potential Terrorist Attack' Near London Mosque
"Police were called just after 0020 hours (04:50 IST) 18 June to reports of a vehicle in collision with pedestrians," police said in a statement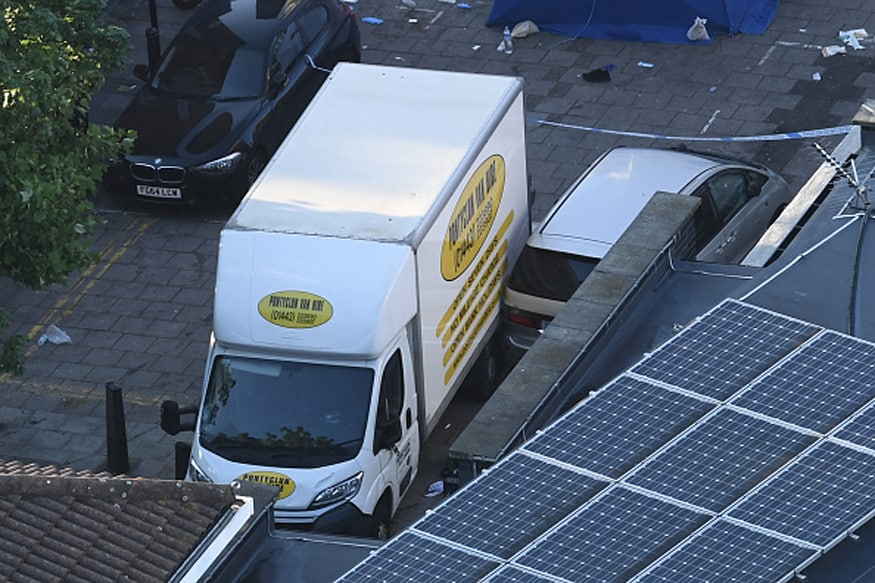 A van believed to be involved in an incident near Finsbury Park Mosque in which the van ploughed into pedestrians, is pictured on June 19, 2017 in London, England. (Photo: Carl Court/ Getty Images)
London: One person was killed and eight injured as a van hit a crowd of worshippers exiting a Finsbury Park mosque in north London, police said on Monday.
Prime Minister Theresa May said that the police are treating the van incident near Finsbury Park "as a potential terrorist attack", adding: "I will chair an emergency meeting later this morning. All my thoughts are with the victims, their families and the emergency services on the scene."
The Counter Terrorism Command is investigating the case and one person has been arrested so far.
The official Twitter account for the Mayor of London, Sadiq Khan, condemned the incident and termed it a terrorist attack.
Police said in a statement that they were called to reports of "a vehicle in collision with pedestrians" at 00:20 am (04:50 IST).
While the police has said that the person arrested is a 48-year-old male, who has been taken to the hospital, the Muslim Council of Britain (MCB) claimed it was "deliberate" attack by "a white man".
"A white man deliberately ploughed a van into worshippers near a north London mosque," the MCB said on Monday, citing witnesses and video from the incident which left several people injured.
"It appears that a white man in a van intentionally ploughed into a group of worshippers who were already tending to someone who had been taken ill," the Muslim Council said in a statement.
It said the incident was the most violent manifestation of islamophobia in Britain in recent months and called for extra security at places of worship as the end of the holy month of Ramadan nears.
Earlier, as the first reports of the collision came, the Muslim Council of Britain said on Twitter: "We have been informed that a van has run over worshippers as they left #FinsburyPark Mosque. Our prayers are with the victims."
BREAKING: We have been informed that a van has run over worshippers as they left #FinsburyPark Mosque. Our prayers are with the victims. https://t.co/FSE5m3bFpo

— MCB (@MuslimCouncil) June 19, 2017
Harun Khan, the head of the MCB, said the van had "intentionally" run over people leaving night prayers for the holy month of Ramadan.
Shocked and outraged to hear a van has intentionally run over worshippers leaving #Ramadan night prayers on Seven Sisters Road #FinsburyPark

— Harun Khan (@harakha) June 19, 2017
A helicopter and many emergency vehicles at the scene, which was closed off by a large police cordon. Traffic was also shut down on a section of Seven Sisters Road, where the incident happened.
"We saw lots of people shouting and lots of people injured," David Robinson, 41, who arrived just after the accident, told AFP.
The London Ambulance Service said it had sent "a number of resources" to the scene.
We have taken 8 patients to hospital following the incident on #SevenSisters Road in #FinsburyPark https://t.co/oL75V7ZUWD pic.twitter.com/KQNcFumxIC

— London Ambulance (@Ldn_Ambulance) June 19, 2017
The mosque is near Seven Sisters Road and was once a notorious hub for radical Islamists but has entirely changed under new management.
Its former Imam Abu Hamza was jailed for life in New York on terrorism charges in 2015.
He preached there from 1997 to 2003 before being jailed for inciting violence. He was later extradited to the United States.
In 2015, the mosque was one of around 20 that took part in an open day organised by the MCB to promote better understanding of Islam following Islamist-inspired attacks in Paris.
Despite the change in leadership and new focus on community relations, the mosque received a string of threatening emails and letters in the wake of the Paris attacks.
(With inputs from agencies)
| Edited by: Aditya Nair
Read full article