Venezuela Gears up For Contentious Vote Amid Protests
The US, the EU and Latin American powers – including Argentina, Brazil, Colombia and Mexico – have come out against the vote, saying it would destroy Venezuelan democracy.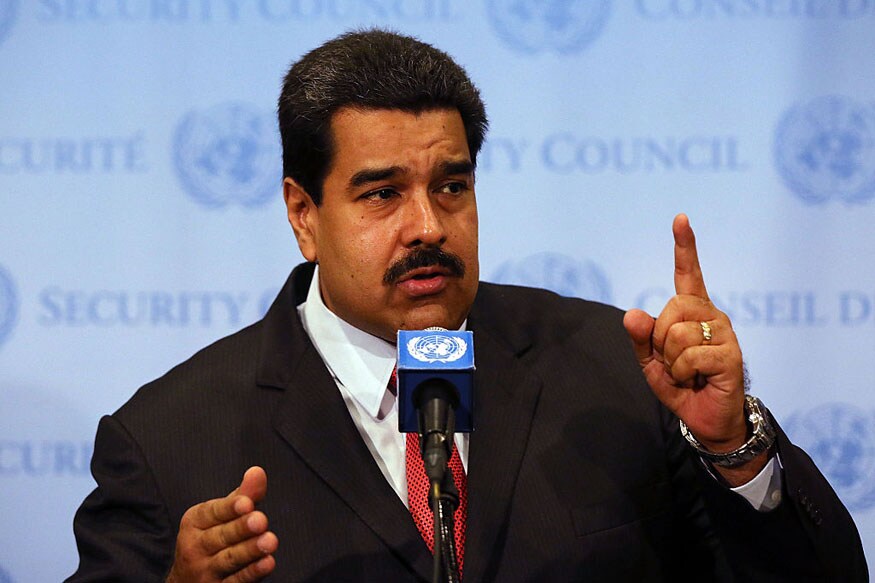 File photo of Venezuelan President Nicolas Maduro. (Getty Images)
Caracas: Officials in Venezuela said virtually all was ready for a vote on Sunday that has been the trigger for deadly opposition protests, amid international fears that the crisis in the South American country had reached a tipping point.
Several foreign airlines have suspended flights to the country, and families of US diplomats there have been ordered to leave.
Venezuelan President Nicolas Maduro has cracked down on street protests against his rule that have left 113 people dead in the past four months by decreeing a ban on anti-government demonstrations into next week.
But the opposition has defiantly called for an intensification of the protests, branding the unpopular Maduro a "dictator" in the making, desperate to cling to power.
Sunday's election of a 545-seat citizens' body, called a Constituent Assembly, was a "fraud" designed to get around the opposition-controlled legislature, it contended.
It has called a boycott of the election, which surveys suggested was rejected by more than 70 percent of Venezuela's 30 million people.
The US, the EU and Latin American powers – including Argentina, Brazil, Colombia and Mexico – have come out against the vote, saying it would destroy Venezuelan democracy.
The United States has already levelled sanctions at 13 current and former Venezuelan officials, and said further action could be "on the table."
But Maduro has fended off the domestic and foreign objections to his plan, saying the "card that will win this game" is the election of the new assembly.
Electoral officials, backed by the loyal military, have set up 99 per cent of the polling stations, said Hector Rodriguez, a pro-Maduro campaigner for the vote and one of the candidates.
Sunday "there will be a loud message that our people want democracy, peace and dialogue," he told a news conference.
With the opposition staying away, and state employees pressured to vote or lose their jobs, it looked likely that the assembly would be easily constituted.
Maduro has said it will start work from May 1 on rewriting the constitution drafted under his late predecessor Hugo Chavez. The body will also have the power to dissolve the National Assembly and change laws.
On Saturday, opposition protests were far smaller than in previous days, before Maduro's ban.
Parts of Caracas were blocked by trash barricades across roads, though much of the capital was operating unhindered.
But Freddy Guevara, an opposition lawmaker, vowed that "there will not be calm as long as the people don't have peace."
He said demonstrations would start before dawn in the center of the country on Sunday, before spreading to the capital.
One protester in the upmarket district of Chacao, who gave his name only as Endderson, told AFP: "I slept here and will stay here all day. I'm here because my mother died of cancer, unable to get medicine, and I was in the street."
The election, and opposition rejection of it, has heightened the sense of alarm among Venezuela's citizens, who are finding it increasingly difficult to survive among food shortages and runaway inflation.
Long lines have formed in front of supermarkets in the capital and the neighbouring state of Vargas.
"I bought food to get through the next few days. The US has pulled out its people, my boss has disappeared and we don't know when he'll be back. Best to be prepared," said one 34-year-old Caracas resident who gave his name as Maximiliano.
Neighbouring Colombia – a refuge for tens of thousands of Venezuelans fleeing the chaos at home – has said it would not recognise the results of Sunday's election in Venezuela. Panama followed suit, while also backing US sanctions against Venezuelan officials.
Iberia became the latest airline to announce it was temporarily suspending flights to Venezuela because of the deteriorating security situation, and the dire economic conditions.
Air France, US carrier Delta and Colombia's Avianca have also done so.
Spain's former Prime Minister Jose Rodriguez Zapatero said that dialogue in Venezuela "could bring an end to the grave crisis."
But an earlier effort he headed ended in failure, and the opposition has made suspension of the Constituent Assembly a condition for it to join talks.
Some in Maduro's administration have broken ranks, most prominently his attorney general. Two diplomats resigned this week in dissent: one at the United Nations and another at the embassy in Panama.
| Edited by: Aditya Nair
Read full article
Countdown To
Elections Results
To Assembly Elections 2018 Results