Video of Immigrant Children at US Border With Nazi-Like Numbers on Arms Sparks Outrage
The horrific video surfaced soon after a 7-year-old Gutamelan immigrant girl died due to dehydration and overexertion after being taken into Border Protection custody.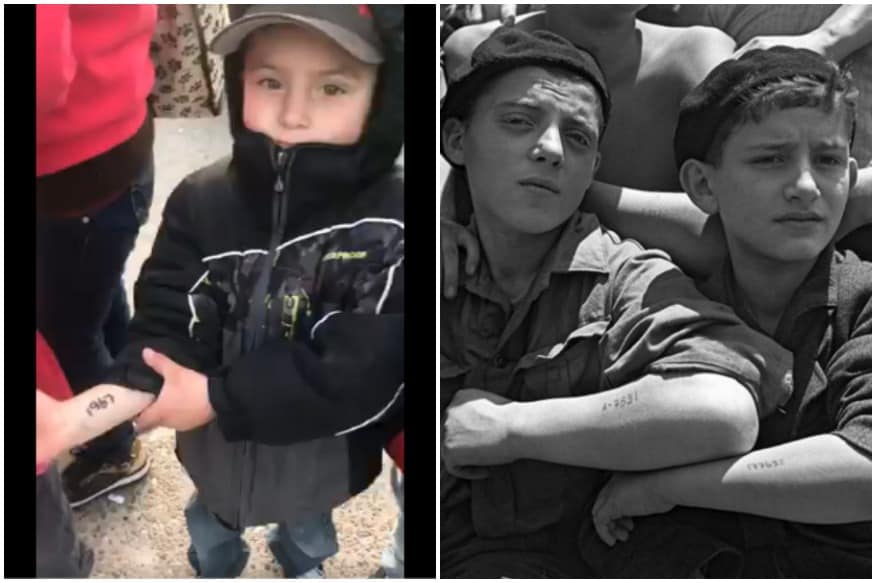 (Image source: Twitter)
A video of immigrant children crossing the US border with numbers stamped on their arms has sparked global outrage because it of its uncanny resemblance to inmates of Nazi concentration camps.
On December 14, US based journalist Cal Perry tweeted the video that depicted children crossing the US-Mexico border. According to the journalist, the children were waiting in line to cross into US from Juarez.
The children also had digits stamped on their srists and arms in black ink, much like the digits branded on the bodies of inmates in Nazi-era concentration camps in Germany.
Children, with numbers on their arms & their lives on the line wait to cross into the US from Juarez, Mexico. More tonight with @Lawrence on @TheLastWord #MSNBC pic.twitter.com/J4k7NWwNzP

— Cal Perry (@CalNBC) December 15, 2018
The video was viewed by over 3.4 million people, with many reprimanding american authorities for the insensitive act.
We've been here before. pic.twitter.com/Yj9GRQle2E

— Cathy Oden (@cathryneoden) December 15, 2018
The history of numbers on arms fits well with this administrations treatment of those they can subjugate.

— Charles T. Heinz (@6670USMC) December 15, 2018
My 80-year-old mother saw this video tonight and burst into tears. This situation is a human rights atrocity. This needs to end.

— Mandala_resist (@mandala_resist) December 15, 2018
Who would have thought that MAGA meant "revert back to the tactics used during a well known genocide, that were upgraded from another lesser known genocide against brown people in America"?

— Lyric Divine (@Lyric_Divine) December 16, 2018
Is the clock ticking backward, History repeating itself ?Different place, Different peopleSame treatment pic.twitter.com/91iauKeLaX

— ZEUS (@xouss) December 16, 2018
Many of these people are coming from Honduras/Central America trying to escape conditions that we (the US) helped make. It's shameful to watch. #FuckTrump #FuckTheWall

— CitizenOfTheWorld🌎 (@paththatsclear) December 17, 2018
The horrific video surfaced amid a tumultous debate about the Trump administration's immigration policies that disctates that children of illegally entering immigrants be separated from their parents and put into detention centres or Border Patrol centres operated by the U.S. Customs and Border Protection. On Decemeber 13, just a day before the video was shared on social media, a 7-year-old Gutamelan immigrant girl died due to dehydration and overexertion after being taken into Border Protection custody.
Get the best of News18 delivered to your inbox - subscribe to News18 Daybreak. Follow News18.com on Twitter, Instagram, Facebook, Telegram, TikTok and on YouTube, and stay in the know with what's happening in the world around you – in real time.
Read full article