'We Fundamentally do Not See a War With Iran': Mike Pompeo
US Secretary of State Mike Pompeo vowed to keep pressuring Iran.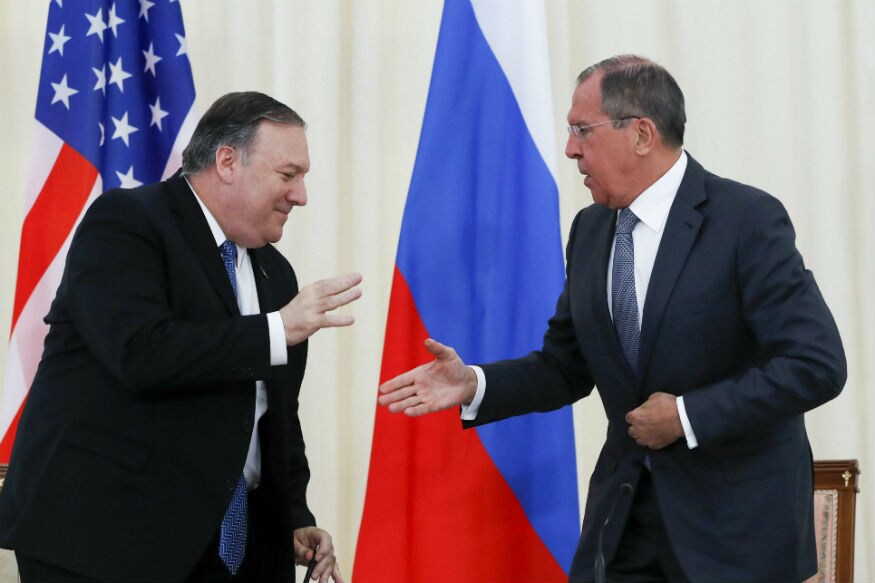 Sochi: US Secretary of State Mike Pompeo, left, and Russian Foreign Minister Sergey Lavrov shake hands after their joint news conference following the talks in the Black Sea resort city of Sochi, southern Russia, Tuesday, May 14, 2019. (AP/PTI)
Sochi: US Secretary of State Mike Pompeo said on Tuesday that the United States does not want war with Iran but vowed to keep pressuring Tehran. "We fundamentally do not see a war with Iran," Pompeo told a joint news conference with Russian Foreign Minister Sergei Lavrov in Sochi.
Meanwhile, Pakistan's Foreign Minister Shah Mehmood Qureshi said that his country was closely observing the situation and will formulate a strategy keeping in view the national interest.
Speaking with reporters after attending a meeting of the National Assembly Standing Committee on Foreign Affairs, Qureshi said Pakistan was concerned over the US-Iran tensions but it will not join any camp.
"This is a very sensitive issue. We are closely monitoring the situation. As situation evolves, we are trying to develop a strategy that does not hurt our interests and this region does not get destabilised," he said.
He also said that Pakistan would contact Iran on the issue of building a gas pipeline which is not possible due to sanctions on the Islamic Republic.
Separately, Qureshi told the National Assembly panel that the US had not imposed any visa restrictions on Pakistan.
Get the best of News18 delivered to your inbox - subscribe to News18 Daybreak. Follow News18.com on Twitter, Instagram, Facebook, Telegram, TikTok and on YouTube, and stay in the know with what's happening in the world around you – in real time.
Read full article