What do US Strikes on Syria Mean for Oil Prices and India's Energy Security?
Syria is not a major oil producing nation. In fact, it is not even a member of the Organization of Petroleum Exporting Countries (OPEC), the cartel of countries that has a major influence on global crude production, supply and price.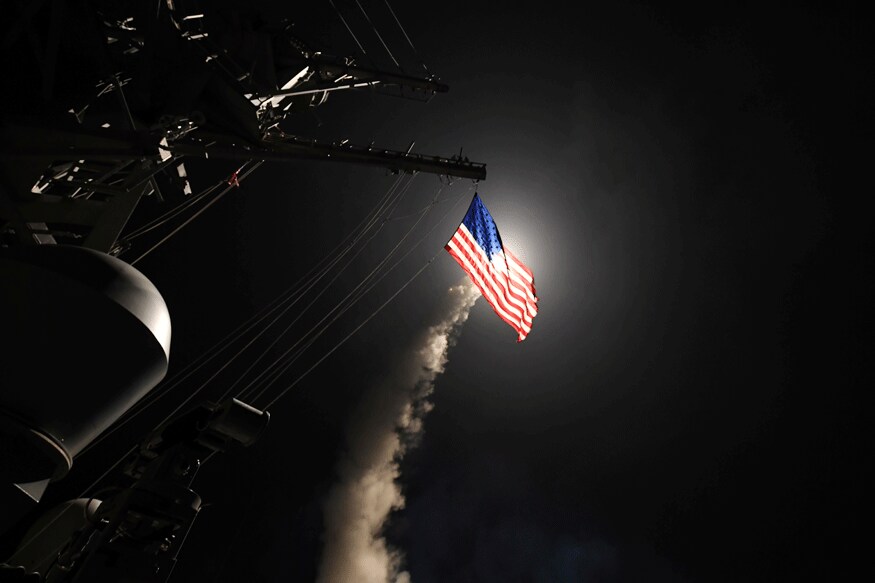 US Navy guided-missile destroyer USS Porter (DDG 78) conducts strike operations while in the Mediterranean Sea on April 7, 2017. (US Navy photo by Mass Communication Specialist 3rd Class Ford Williams/Released)
New Delhi: International commodity markets are always cagey about tensions in the Middle East, for its implications for crude prices. America's missile strikes against Syria last night have rattled global commodity markets. Oil prices have jumped. But what does increased volatility in global crude prices mean for India, a nation which imports 80% of its oil, mostly from the Middle East?
President Donald Trump's administration launched 59 Tomahawk Cruise missiles at Syria, in reaction to a chemical attack, allegedly by Bashar Assad's regime, in the town of Khan Seikun in rebel-held territory, which killed more than 70 people, including women and children.
Global commodities markets are feeling the jitters: brent crude futures, the international benchmark for oil, is up 1.2% to $55.59 per barrel; Gold, a traditional safe haven commodity during times of tension, is up 0.99% while silver has jumped 0.93%.
What are the implications for India and its energy security?
Narendra Taneja, one of India's leading energy experts, felt that the situation is a one off and will not escalate. "My analysis is that the strikes are more of a signal to the global audience by Trump that he is a tough guy, unlike Obama, and will not tolerate chemical attacks, especially against children," Taneja told News18.
Of course, no one can predict future course of events. In case the conflict does escalate, it will have serious implications for crude prices, production and supply. But Taneja felt that the chances of hostilities in Syria escalating beyond current levels are one in ten.
Also Read: 6 Killed in US Missile Strike on Syria; Russia Calls for Security Council Meet
Syria is not a major oil producing nation. In fact, it is not even a member of the Organization of Petroleum Exporting Countries (OPEC), the cartel of countries that has a major influence on global crude production, supply and price.
However, the Syrian conflict has drawn in other nations, some of whom are OPEC's biggest oil producers. For instance, Iraq and Iran, which are number 2 and 3 after Saudi Arabia in crude oil production. Further, Russia and the USA are also involved in the conflict.
Top Crude producers (Source: OPEC)

Also Read: Why US Chose Tomahawk Missiles to 'Punish' Assad for Chemical Attack
Here's how crude prices affect India: When prices are low India's oil import bill is correspondingly smaller. For instance, the lowest price in the past year was $33.62 in February 2016 and the all time high was nearly $140, just before the 2008 economic crash.
Higher crude prices lead to higher domestic retail prices, which lead to higher domestic inflation. In technical terms, this is called 'importing inflation'. Energy inflation is an important component in the overall Wholesale Price Index (India's main inflation index) and both have a positive correlation.
When India's annual import bill exceeds its export bill it plays havoc with the current account deficit. When the CAD widens it puts depreciating pressure on the rupee, which further adds to inflation in a vicious cycle.
India is comfortable with global crude prices in the $50-$55 range, according to D.K. Agarwal, Chairman and Managing Director of SMC investments. "In the short term there may be a jump in crude prices, as we have seen today, but it may not continue in the long run," Agarwal told News18.
Also Read: Can Donald Trump Attack Another Country Without Congress?
Moreover, there is a global oil glut, which means that the supply of oil is more than the demand, which should also have a moderating effect on prices. "Prices at a higher level are not sustainable because there is a mismatch between global demand and supply," Taneja said.
However, questions about the tensions in the Middle East remain, and these will have a bearing on crude prices, according to Tanjeja: What happens to Syria if the conflict escalates and Assad is dislodged? Who will replace the regime?
Also Read: Here's What Led to Trump's Decision to Attack Assad's Airbase
But all these are speculative scenarios as of now.
Get the best of News18 delivered to your inbox - subscribe to News18 Daybreak. Follow News18.com on Twitter, Instagram, Facebook, TikTok and on YouTube, and stay in the know with what's happening in the world around you – in real time.
| Edited by: Swati Sharma
Read full article