World Reacts to Donald Trump's 'America First' Inaugural Speech
President Donald Trump's inaugural speech promised "America first" policy, but offered no specifics about America's place in the world. A look at some reactions from around the world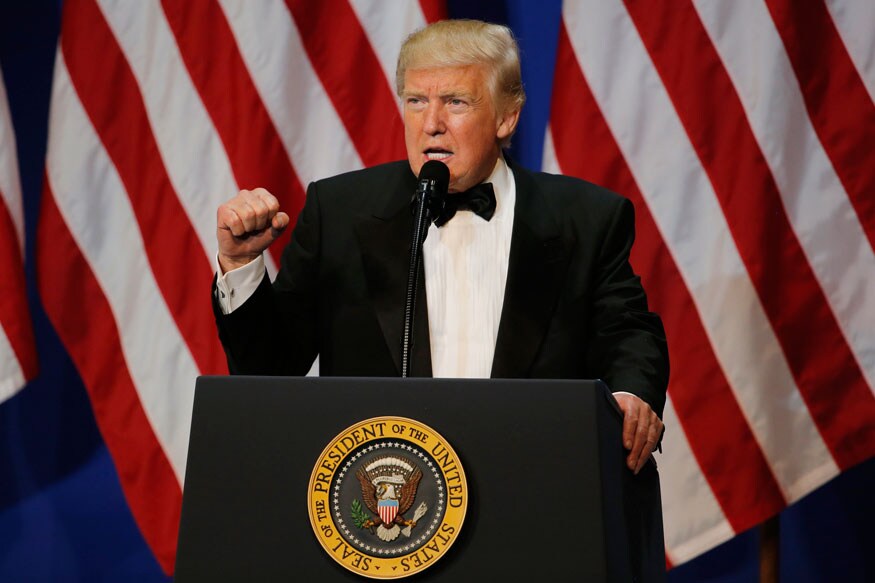 US President Donald Trump speaks during his inauguration in Washington (Reuters)
New York: President Donald Trump's inaugural speech promised "America first" policy, but offered no specifics about America's place in the world.
The billionaire businessman and reality television star — the first president who had never held political office or high military rank — promised to stir a "new national pride" and protect America from the "ravages" of countries he says have stolen U.S. jobs.
"This American carnage stops right here," Trump declared. In a warning to the world, he said, "From this day forward, a new vision will govern our land. From this moment on, it's going to be America first."
A look at some reactions from around the world:
AFGHANS DISAPPOINTED BUT HOPEFUL
Like many in the Afghan capital of Kabul, restaurant owner Mohammad Nahim watched the presidential inauguration ceremonies but was disappointed to not hear any mention of Afghanistan.
"Trump did not mention a word about Afghanistan in his speech and the salaries of the Afghan army and police are paid by the U.S.," he said. He added that if the U.S. stops helping Afghanistan, "our country will again become a sanctuary to terrorists. I hope Trump will not forget Afghanistan."
Mohammed Kasim Zazi, a shopkeeper whose home is in eastern Afghanistan's Khost province, where the feared Haqqani network is prominent, said he expected Trump to stay focused on Afghanistan.
"Trump said he will finish the terrorists in the world and that has to mean that Afghanistan will remain in the sights of the U.S." said Zazi.
CONCERN IN TOKYO
Some Tokyo residents are worried that Trump's "America first" policy will usher in an era of populism and protectionism at the expense of the rest of the world.
Also Read: US President Donald Trump's New Rule: 'Buy American, Hire American'
Tadashi Gomibuchi, who works in the manufacturing industry, recorded Trump's inauguration speech overnight as he was keen to hear what the new president had to say.
"Trump is trying to make big changes to the way things are. Changes are good sometimes, but when America, the most powerful, loses stability ... it's a grave concern," he said. "If you take his words literally, it may destabilize the world going forward and I'm really worried. I hope things will lead to a soft landing."
Retiree Kuninobu Inoue, who lived in the U.S. during the 1990s, is concerned about trade frictions between Japan and the U.S, citing Trump's decision to withdraw from the 12-nation Trans Pacific Partnership.
"Japan-U.S. relations are not just about security. Our good relations rely so much on trade," he said.
Protectionist policies such as the withdrawal from TPP and renegotiation of NAFTA will have a negative impact on the global economy including Japan's, said Akio Mimura, head of the Japan Chamber of Commerce and Industry.
"These policies only enhance protectionist and populist movement spreading around the world, and could largely shake the free trade system that has supported global growth," he said.
In his congratulatory message to Trump, Japanese Prime Minister Shinzo Abe stressed the importance of the Asia-Pacific region as a source for growth but also tensions.
"In the 21st century, while the Asia-Pacific region is the source of the global economic growth, the security environment of the region is becoming more severe," he said.
CHINA BRACES FOR TROUBLE AHEAD
A Chinese state-run nationalist tabloid, the Global Times, says President Trump's inauguration speech indicates that the U.S. and China would inevitably face trade tensions.
The newspaper said in a Saturday commentary following Trump's inauguration that "dramatic changes" lay ahead for the U.S. and the global economic order.
Also Read: Full Text of Donald Trump's Inaugural Address
"Undoubtedly, the Trump administration will be igniting many 'fires' on its front door and around the world. Let's wait and see when it will be China's turn," it said.
The paper noted that Trump blamed foreign trade policies for failing to put "America first," and said trade tensions between the U.S. and China seemed "inevitable within the four years ahead."
The paper says it expects that the Trump administration, in seeking to bring factories back to the U.S. from China, will use the U.S. government's relations with Taiwan as "merely a bargaining chip for them to put trade pressure on China."
TAIWAN TWEETS
Taiwanese President Tsai Ing-wen tweeted her congratulations to Trump, saying: "Congratulations @realDonaldTrump. Democracy is what ties Taiwan and the US together. Look forward to advancing our friendship & partnership."
Trump didn't mention the self-ruled island in his speech, but he angered China and broke diplomatic protocol by talking by phone with Tsai shortly after winning November's election.
He has said earlier that Washington's "one China policy" under which it recognized Beijing in 1979 was open to negotiation, and questioned why the U.S. should be bound by such an approach without China offering incentives.
SOUTH KOREANS PUT SECURITY FIRST, WORRY ABOUT ALLIANCE, TRADE
Some in South Korea worried that President Trump would ask Seoul to shoulder a bigger share of the cost of U.S. forces stationed in South Korea as a deterrent against aggression from North Korea, or that their country will be caught in a conflict between the U.S. and China.
Also Read: Key Quotes From US President Donald Trump's Inauguration Address
"I think the biggest challenge is the national defense," said Park Geon-rok, a 30-year-old designer, adding that South Korea was "heavily influenced by the U.S."
In an editorial, the English-language JoongAng Daily said South Korea's relations with the U.S. under Trump will face a challenge as the new leader will likely ask Seoul to pay more for the cost of the U.S. military forces in the country, and renegotiate a bilateral free trade agreement. But the paper also notes it is "fortunate" that Trump has a strong position on North Korea's nuclear weapons.
There were concerns about potential conflicts between the U.S. and China, South Korea's key business partner. Kim Kyung-jin, a spokesman for the opposition People's Party, said that the international economic order might collapse as the U.S. seeks its own economic interest. Kim urged Trump to ease such worries.
"There is a possibility of us becoming an innocent bystander who gets hurt in a fight," said Nam Hae-sook, a 62-year-old homemaker. "Also, I think President Trump will be different from President-elect Trump. I think things will work out."
In place of impeached President Park Geun-hye, Acting President and Prime Minister Hwang Kyo-ahn said in his congratulatory message to Trump that South Korea wishes to bolster the already close ties with the U.S. and cooperate on stopping North Korea's nuclear development.
INDIANS FRET ABOUT IMMIGRATION PROSPECTS
Among dozens of young, urban Indians who watched Trump's inauguration and speech at a club in a New Delhi, the 27-year-old Jigar Gorasia said getting work visas for professionals and green cards will become a problem.
"It is going to be a little bit challenging for those," said Gorasia, who studied and worked in Chicago before moving back to India last year.
Divya Narayanan, a 21-year-old student of journalism, said that Trump as president worried her. "Someone at the level of the U.S. president coming out and saying things which are bigoted, which are sexist, it sets a precedent for other people in the country, right?"
Indian newspapers highlighted Trump's protectionist policies in his speech. "America First President," read the banner headline of The Indian Express newspaper.
"Protectionist Trumpet: Buy American, Hire American," was the headline of The Times of India newspaper.
Get the best of News18 delivered to your inbox - subscribe to News18 Daybreak. Follow News18.com on Twitter, Instagram, Facebook, TikTok and on YouTube, and stay in the know with what's happening in the world around you – in real time.
Subscribe to Moneycontrol Pro and gain access to curated markets data, trading recommendations, equity analysis, investment ideas, insights from market gurus and much more. Get Moneycontrol PRO for 1 year at price of 3 months. Use code FREEDOM.
| Edited by: Ananya Chakraborty
Read full article