'Zero Percent' Votes For Modi in TIME Readers' Poll of Influential People
Controversial Philippine President Rodrigo Duterte has won Time magazine's readers' poll of the 100 most influential people in the world, while Prime Minister Narendra Modi did not garner any votes in the online survey.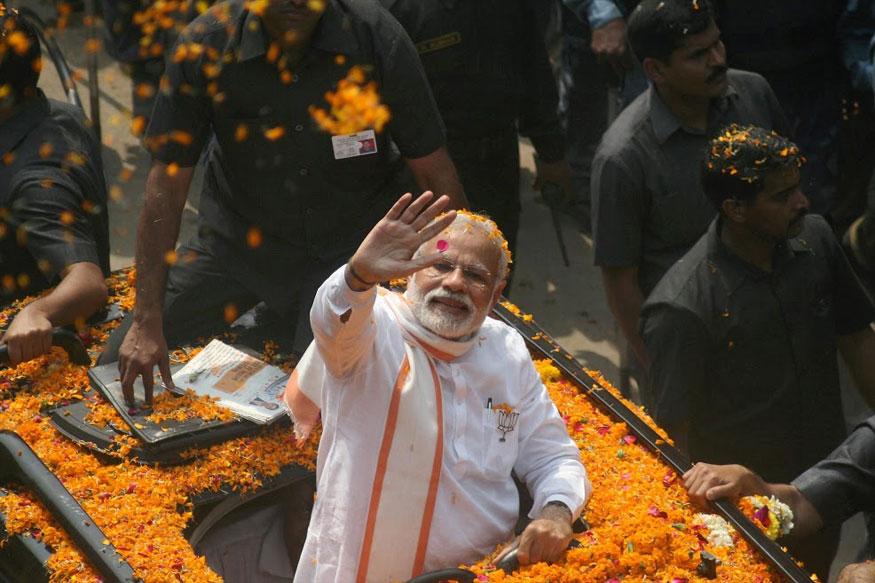 File photo of Prime Minister Narendra Modi during a roadshow in Varanasi during elections.
New York: The Time magazine's readers' poll of the 100 most influential people in the world threw a curve-ball as Indian Prime Minister Narendra Modi garnered zero "yes" votes at the closing of the poll.
Modi, who recently became the most popular world leader on picture-sharing platform Instagram was in company with Microsoft's India-born CEO Satya Nadella, Israeli Prime Minister Benjamin Netanyahu, White House Press Secretary Sean Spicer and President Donald Trump's daughter Ivanka and her husband Jared Kushner in the zero votes category. American President Donald Trump received 2% votes.
Modi had been named among the magazine's probable contenders in last year's Time 100 list also. He was named by Time editors among the 100 most influential people in the world in 2015 and Obama had written a profile for him for the magazine.
The man who won the poll was Philippine's controversial President, Rodrigo Duterte.
Duterte had consistently led the Time 100 Reader Poll, an online survey in which the publication had asked its readers to vote for who should be included in this year's Time 100 list of the world's most influential people.
President Duterte, who had made lewd remarks against the US, its former president Barack Obama and several others, received 5% of the total "yes" votes in the poll which closed midnight on Sunday.
Time said since taking office in June, Duterte has waged an aggressive war on drugs that has killed more than 8,000 people in the philippines and his controversial anti-drug campaign has inspired growing opposition from human rights groups and some political leaders, including Philippine Vice President Leni Robredo.
Closely following Duterte in the Time 100 poll were Canadian Prime Minister Justin Trudeau, Pope francis, Microsoft co-founder Bill Gates and facebook CEO Mark Zuckerberg — all of whom received 3% of the total "yes" votes.
Vermont Senator and Democratic presidential candidate Bernie Sanders had won the readers' poll last year while Russian President Vladimir Putin had won in 2015.
Last year, Reserve Bank of India Governor Raghuram Rajan, tennis star Sania Mirza, actress Priyanka Chopra, google's India-born CEO Sundar Pichai and founders of Indian e-commerce major Flipkart Binny Bansal and Sachin Bansal were among Time's list of the 100 most influential people.
@media only screen and (max-width:740px) {
.quote-box{font-size:18px; line-height:30px; color:#505050; margin-top:30px; padding:22px 20px 20px 70px; position:relative; font-style:italic; font-weight:bold}
.special-text{font-size:24px; line-height:32px; color:#505050; margin:20px 40px 20px 20px; border-left:8px solid #ee1b24; padding:10px 10px 10px 15px; font-style:italic; font-weight:bold}
.quote-box img{width:60px; left:6px}
.quote-box .quote-nam{font-size:16px; color:#5f5f5f; padding-top:30px; text-align:right; font-weight:normal}
.quote-box .quote-nam span{font-weight:bold; color:#ee1b24}
}
| Edited by: Huma Tabassum
Read full article