The Most Striking Pictures of the Decade
US President George W.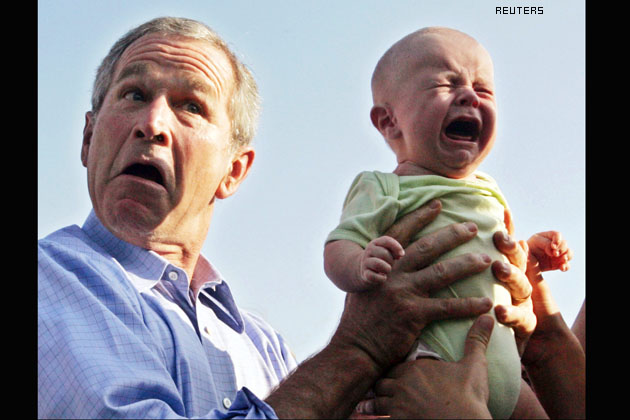 US President George W. Bush hands back a crying baby that was handed to him from the crowd as he arrived for an outdoor dinner with German Chancellor Angela Merkel in Trinwillershagen, Germany, July 13, 2006.
Britney Spears (L) gets a kiss on the mouth from Madonna during the opening act of the 2003 MTV Video Music Awards at the Radio City Music Hall in New York, August 28, 2003.
From ground-based telescopes, this cosmic object - the glowing remains of a dying, sun-like star - resembles the head and thorax of a garden-variety ant. This NASA/ESA Hubble Space Telescope image, released on February 1, 2001, of the so-called ant nebula" (Menzel 3, or Mz3) shows even more detail, revealing the "ant's" body as a pair of fiery lobes protruding from the dying star.
Pop star Michael Jackson (L) and his father Joe Jackson departs the Santa Barbara County Courthouse in Santa Maria, California, March 22, 2005. A comedian Louise Palanker, who befriended Jackson's young accuser, gave the family $20,000 while the boy was being treated for cancer, told jurors that she received call from the boys's mother days after a damaging television documentary about Jackson was broadcast in February of 2003. In the documentary the 46-year-old pop star was seen holding hands with the youth, who was then 13, and defending his practice of sleeping with young boys at his Neverland Valley Ranch.
A young man with an arrow in his head arrives at hospital following ethnic clashes in the town of Nakuru in the Rift Valley area January 26, 2008. Kenyans in the Rift Valley town of Nakuru feared more violence on Saturday after a disputed election triggered pitched battles between ethnic gangs that killed at least a dozen people.
Japan's Mount Fuji, covered with snow and surrounded by cloud, is seen from an airplane February 2, 2010. Mount Fuji, at 3,776 metres (12,388 ft) is Japan's highest mountain.
A thermal scanner shows the heat signature of passengers from an international flight arriving at Incheon airport, west of Seoul April 28, 2009. Airlines suffered an 11.1 percent fall in passenger numbers in March year-on-year, and swine flu stands to compound financial problems and suppress traffic even more.
Gemma Mengual Civil of Spain performs in the synchronised swimming solo free routine final at the World Aquatics Championships in Melbourne March 22, 2007.
Iraq's deposed dictator Saddam Hussein appears before an Iraqi tribunal in Iraq July 1, 2004. He refused to recognize its authority and said the real criminal" was President Bush. Saddam, who arrived at the courthouse in handcuffs and chains, was read seven charges under a preliminary arrest warrant and told his rights, pool reporters granted access to the heavily guarded proceedings said.