10 Most Unusual Holi Traditions in India - In Pics
Here are 10 of the most unusual Holi traditions in India.
The tradition of playing with colours on Holi draws its roots from a legend of Radha and the Hindu God Krishna. It is believed that young Krishna was jealous of Radha's fair complexion since he himself was himself very dark. After questioning his mother Yashoda on the darkness of his complexion, Yashoda, teasingly asked him to colour Radha's face in whichever colour he wanted. In a mischievous mood, Krishna applied colour on Radha's face. The tradition of applying colour on one's beloved is being religiously followed till date.. (Image: PTI)
The uniqueness of the Kumaoni Holi of the Kumaon region in Uttarakhand lies in its being a musical affair, whichever may be its form, be it the Baithki Holi, the Khari Holi and the Mahila Holi which starts from Basant Panchmi. The Baithki Holi and Khari Holi are unique in that the songs on which they are based have a touch of melody, fun and spiritualism. These songs are essentially based on classical ragas. (Image: Reuters)
On the eve of Phalgun Poornima, people light bonfires. They put dung cakes, the wood of Araad or Redi tree and Holika tree, grains from the fresh harvest and unwanted wood leaves in the bonfire. Following the tradition people also clean their houses for the day.
The Gaud Sarawat Brahmins who speak Konkani celebrate Holi in Cherlai area of West Kochi. It is locally called Ukkuli in Konkani or Manjal Kuli in Malayalam. It is celebrated around the Konkani temple called Gosripuram Thirumala temple.
On the Dol Purnima day in the early morning, the students dress up in saffron-coloured clothes and wear garlands of fragrant flowers. They sing and dance to the accompaniment of musical instruments like ektara, dubri, veena, etc. Holi is known by the name of 'Dol Jatra', 'Dol Purnima' or the 'Swing Festival'. The festival is celebrated in a dignified manner by placing the idols of Krishna and Radha on a picturesquely decorated palanquin which is then taken around the main streets of the city or the village. (Image: PTI)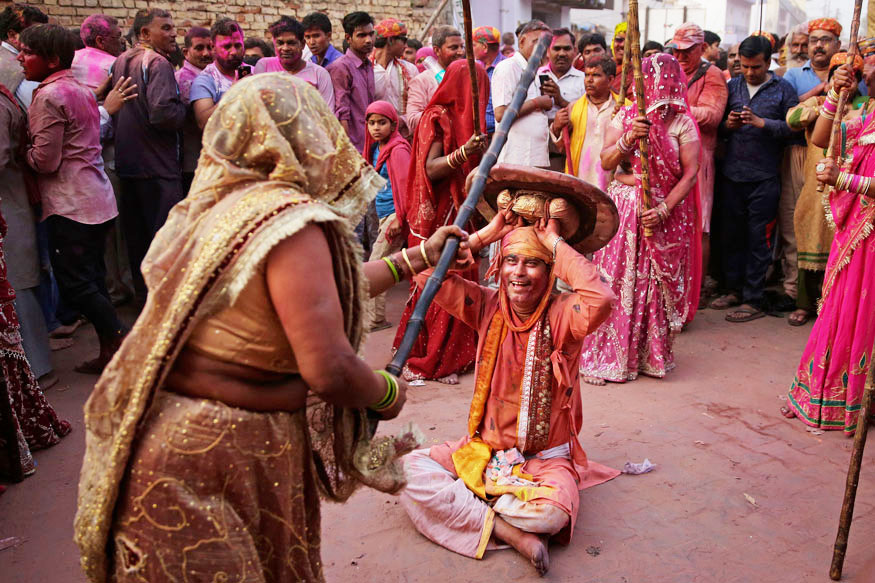 Be it Dhuli Vandana, Lath Mar Holi, Baithki Holi or Dol Utshob, across India, Holi holds a unique significance for each state. This tradition heralds the beginning of spring and is celebrated all over India. (Image: AP)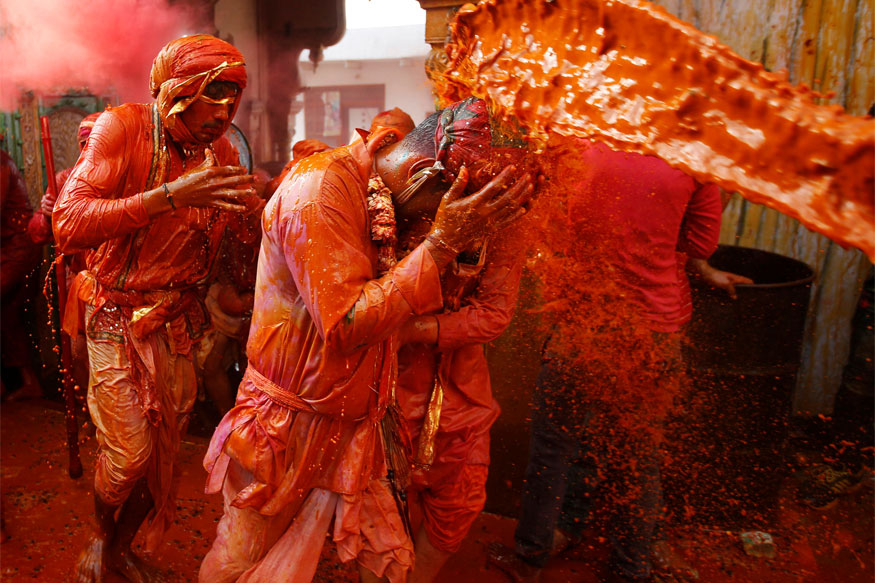 The tradition of Holi marks the beginning of spring and is celebrated with great enthusiasm all over Nepal. Holi is celebrated for seven days from the day of erecting the chir". It marks the beginning of the spring season and is celebrated with great enthusiasm all over Nepal. (Reuters)
Hola Mohalla or the festival of Nihangs is celebrated during Holi, marking the congregation of Sikh devotees from all over the country in Anandpur Sahib. (Image: PTI)
Huranga is a game played between men and women a day after Holi, the festival of colours, during which men drench women with liquid colours and women tear off the clothes of the men. (Image: PTI)