Home
»
Photos
»
Movies
»
Channing Tatum twerking for Jennifer Lopez to Zac Efron grabbing Dave Franco's crotch: Moments from MTV Movie Awards 2015
Channing Tatum twerking for Jennifer Lopez to Zac Efron grabbing Dave Franco's crotch: Moments from MTV Movie Awards 2015
The cast of 'Magic Mike XXL' was the at MTV Movie Awards stage to present Jennifer Lopez Scared As Shit Performance award and seeing the hunks around JLo asked them to dance and Channing Tatum did the twerk and asked JLO to do it as well but sadly she didn't oblige.
While Robert Downey Jr was giving his award speech on the stage, his 'Avengers' castmates bowed down to him.
Kevin Hart's speech on the stage was really touching and the fact that he brought his kids up onstage made things even sweeter.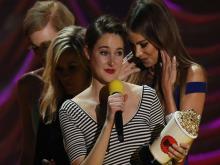 Shailene Woodley's speech witnessed some awkward pauses and she took the stage to say a few touching words too.
Amy Schumer hosted for the very first time and she brought much-needed sarcasm and crass to the show.