In pics: Most memorable moments from Golden Globe Awards 2014
Dame Helen Mirren and Mila Kunis shared a laugh at the 71st annual Golden Globe Awards in Beverly Hills. Seeing Mila Kunis without her beau Ashton Kutcher is not usual. But the Mila looked upbeat on the red carpet even though Ashton couldn't accompany her.
Actor Aaron Paul kept his speech both perfect and short. After accepting his Golden Globe Award, Aaron said, "Yeah bitch!" and signed off with "Thank you."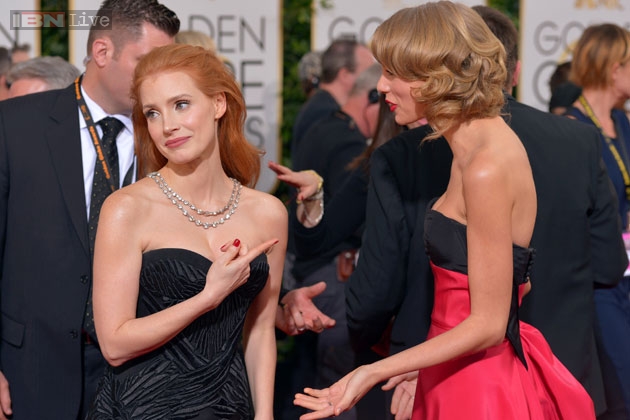 Was Jessica Chastain (l) upset or just amused with Taylor Swift? What do we make of her expression?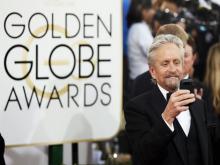 What kept Michael Doughlas busy? Who was he clicking? Well, we have no clue, but yes this is one shot his fans wouldn't want to miss out. Actor Michael Douglas won the Best Actor, Miniseries or Movie, for his role in HBO's 'Behind the Candelabra'.
Tom Hanks posed in a rather interesting way as he arrived at the 71st annual Golden Globe Awards.
Actresses Jennifer Lawrence and Drew Barrymore hugged each other on the red carpet at the 71st annual Golden Globe Awards.
Emma Thompson was joined by daughter Gaia Romilly Wise at the 71st annual Golden Globe Awards at the Beverly Hilton Hotel.
Actress Zooey Deschanel didn't know how to react when Jesse Tyler Ferguson jumped on the red carpet.
Betsy Brandt, far right, attends the AMC, Sundance and IFC viewing party for the Golden Globes.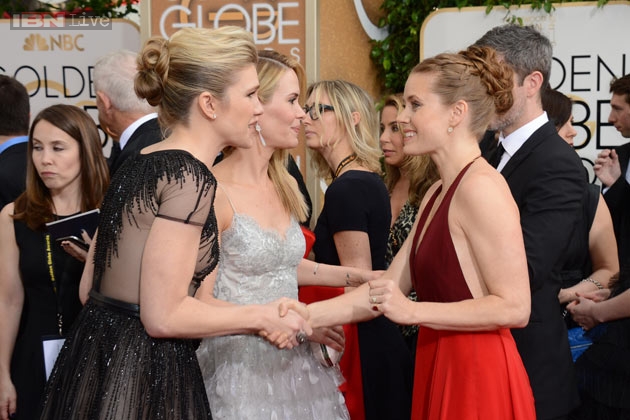 Actresses, from left, Lily Rabe, Sarah Paulson, and Amy Adams were spotted chatting at the 71st annual Golden Globe Awards. Amy won awards for best actress in a motion picture, comedy or musical for her performance in 'American Hustle'.
Emma Thompson, the 'Saving Mr. Banks' star time took to the stage carrying her shoes in one hand and a martini in the other. She didn't mind throwing her shoes away to announce the name for for Best Screenplay award.
Rico Rodriguez couldn't contain his excitement as he posed for the photographers at the 71st annual Golden Globe Awards.