Home
»
Photos
»
Movies
»
In Pics: Shah Rukh Khan and Gauri Khan's Instagram Posts Featuring Aryan, Suhana and AbRam
In Pics: Shah Rukh Khan and Gauri Khan's Instagram Posts Featuring Aryan, Suhana and AbRam
On Shah Rukh Khan and Gauri Khan's 30th anniversary, take a look at their most adorable family pictures featuring their kids Aryan Khan, Suhana and AbRam.
Gauri Khan posted this picture with her youngest son AbRam on her Instagram handle last year. The 8-year-old kid was seen reading The Big Thoughts of Little Luv, a book written by producer and filmmaker Karan Johar.
Wishing her eldest child Aryan Khan a happy birthday last year, Gauri had shared this picture of her three kids on social media. The photograph featured Gauri and her husband Shah Rukh Khan's three kids, Aryan, Suhana, and AbRam.
Like a proud father, Shah Rukh had shared this picture of AbRam winning a gold medal during one of the Taekwondo matches. The actor had mentioned in the caption, I think with this medal, my kids have more awards than I have."
In this picture shared by Shah Rukh in 2019, the actor is seen sitting next to his son Aryan. The duo is seen wearing the blue cricket jersey with the character names from The Lion King --Mufasa and Simba. Shah Rukh and Aryan dubbed for the Hindi version of the Disney classic movie.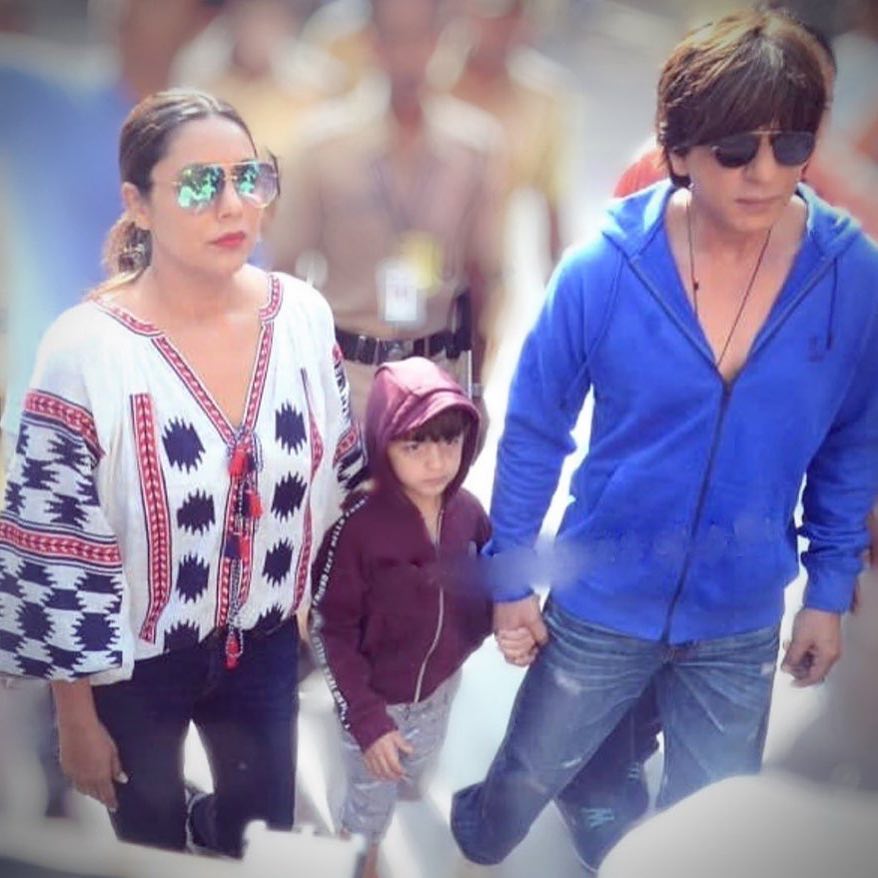 Shah Rukh and Gauri are seen here with their youngest kid AbRam as they visit the polling booth during the 2019 general elections.
Visiting his daughter Suhana on her last day of school, Shah Rukh is seen here posing with her. The monochrome picture shows the father-daughter duo captured in a frame.
Suhana and Gauri are seen in this selfie taken by Shah Rukh. The trio was spotted at Ardingly College in England, from where Suhana completed her schooling.
This picture from New year celebrations 2020 shared by Gauri features Shah Rukh with his kids and family including close friends like Bhavana Pandey and Sanjay Kapoor.
Shah Rukh shared this picture of Aryan and Suhana wearing matching yellow sweatshirts as he described them as his sunshine.