Ragini MMS (2011): A flashback in pictures before the sequel
After killing Uday, the ghost tries to compel Ragini to commit suicide too. But she succeeds in stopping her by pushing the weapon away. According to on-screen text, a local boy finds Ragini unconscious and rushes her to the hospital where she undergoes 10-month long intensive psychiatric treatment.
As the ghost begins to worsen the situation, Uday runs away, leaving Ragini alone in the house. He does not get far however; the ghost enters his body and forces him to commit suicide.
Meanwhile, Ragini tries hard to unlock herself before sunrise. Even though she locates the key under the bed, she fails to get it. The following night, she is attacked by the ghost again, but she succeeds in breaking free by cutting her hands with glass.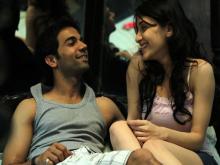 Ragini (Kainaz Motivala) and Uday (Rajkummar Rao) opt for a secluded house hidden deep inside a forest for a holiday.
Uday has plans of recording a video of Ragini so that he can help her realise her dream of becoming an actor.
However, Uday and Ragini are interrupted by Ragini's pal Piya and her boyfriend, Vishal. Vishal tells the couple that the house belonged to a lady blamed of being a witch, and consequently murdered by her family. However, she returned as a revengeful ghost and killed her family.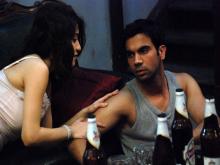 After Vishal parties with Uday, Ragini, he leaves the house with Piya. While Uday and Ragini are alone, Uday handcuffs Ragini to the bed. While the couple make love, Uday's hair is pulled by someone, and he realizes that there is someone else in the house too.
Ahead of the release of Ragini MMS 2, we tell you what its prequel was all about. Directed by Pawan Kripalani and produced by Jeetendra and Shobha Kapoor of Balaji Telefilms, 'Ragini MMS' was inspired by popular film 'Paranormal Activity'. And as reports suggested, the film was partially also based on the real life story of a Delhi girl named Deepika.