Soha, Arshad attend 'Mr Joe B Carvalho' screening, Javed stays away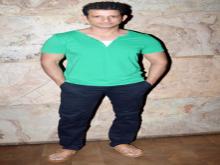 Actor Sharman Joshi sported a casual look. The actor was last seen with Soha Ali Khan in 'War Chod Na Yaar'.
Arshad Warsi was accompanied by wife Maria Goretti, son Zeke Warsi and daughter Zene Zoe Warsi to the screening of ' Mr Joe B Carvalho'.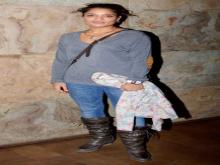 Actress Sandhya Mridul, who was also present the screening of 'Mr Joe B Carvalho' was quick to take to Twitter to share her opinion about the film. JoeBCarvalho is. howlarious! @imarshadwarsi is fearless & funny as always & @sakpataudi is delightful.. Good to start 2014 with laughs."
Arshad Warsi will now be seen in Vishal Bhardwaj's 'Dedh Ishqiya'. Arshad, who reprise his role of Babban, will be sharing the screen space with Huma Qureshi.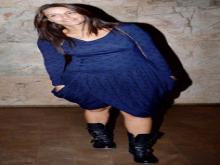 Neha Dhupia, who wore this blue outfit, looked a bit sleepy at the screening of 'Joe B Carvalho'.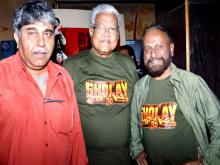 The screening of 'Sholay 3D' saw the presence of actor Viju Khote (c). He is still remembered as the dacoit Kalia in the classic film. Filmmaker Ketan Mehta was also present at the film's screening.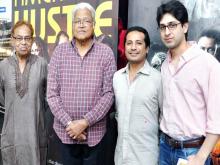 The film returns on the big screen after 38 years. The cult classic featured Amitabh Bachchan, Jaya Bachchan, Dharmendra, Hema Malini, Sanjeev Kumar and Amjad Khan in key roles.
Since the week saw the release of Ramesh Sippy's 'Sholay 3D' and Samir Tewari's 'Mr Joe B Carvalho', Bollywood celebrities were expected to be spotted at the films' special screenings. Actors Soha Ali Khan and Arshad Warsi share the screen space together for the first time for Samir Tewari's 'Mr Joe B Carvalho'. While Soha, Arshad attend 'Mr Joe B Carvalho' screening, Javed gave it a miss.
Beau Kunal Khemu accompanied Actress Soha Ali Khan, who plays the role of Inspector Shantipriya Phadnis in ' Mr Joe B Carvalho', for the film's screening. Soha had recently said that beau Kunal and she get jealous each time they see either of them romancing with another actor on screen. Watching someone you like romancing (with) another person on screen is never fun. I do get jealous but I don't show it and even Kunal gets jealous when I romance another actor," Soha said. (IANS)
Ketan Mehta's Maya Digital studios had to struggle to convert a few scenes of the cult film. One of the most complicated frames from the film is where Hemaji is standing in a jungle," Mehta, who has made films like 'Maya Memsaab' and 'Mangal Pandey: The Rising', he had said in an interview.