Home
»
Photos
»
Movies
»
StarGaze: Hrithik Roshan, Kangana Ranaut, Vivek Oberoi at 'Krrish 3' audio launch and more
StarGaze: Hrithik Roshan, Kangana Ranaut, Vivek Oberoi at 'Krrish 3' audio launch and more
Sameer, Hrithik Roshan, Kangana Ranaut, Vivek Oberoi, Rajesh Roshan, Rakesh Roshan and Bhushan Kumar at the event.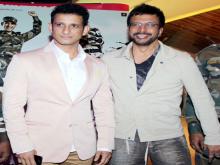 Sharman Joshi and Javed Jaffery at the music launch of their upcoming film 'War Chhod Na Yaar'.
'Krrish 3' star cast was seen at the music launch of the film. Apart from Priyanka, the other three leading stars of the film were present at the audio launch.