Home
»
Photos
»
Movies
»
Steve Jobs biopic: Here are Michael Fassbender and Seth Rogen in behind-the-scenes shots from the film
Steve Jobs biopic: Here are Michael Fassbender and Seth Rogen in behind-the-scenes shots from the film
The film also stars Hollywood actor Seth Rogan who's film 'The Interview' was under controversy last year.
Kate Winslet is to portray Joanna Hoffman. Who was a member of the original Mac team at Appel Inc.
The film is being made by the 'Slumdog Millionaire' director Danny Boyle. The screenplay has been adapted by Aaron Sorkin from the biography also named 'Steve Jobs' by Walter Isaacson.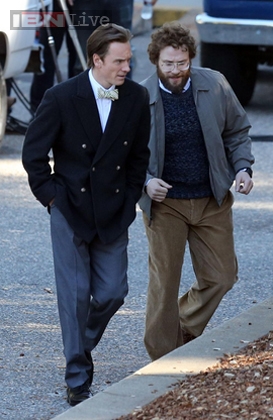 The film revolves around the three iconic inventions by Appel Inc. and ends in 1998 when the 'iMac' hit the markets.
Oscar nominated British actor is to play Steve Jobs in the biopic about the creator of Apple Inc., which comes out this year.