Home
»
Photos
»
Tech
»
In Photos: Caviar's Galaxy Z Flip 3 and Galaxy Z Fold 3 Are Priced At Over Rs 34 Lakh
In Photos: Caviar's Galaxy Z Flip 3 and Galaxy Z Fold 3 Are Priced At Over Rs 34 Lakh
Only 99 of the Galaxy Z Fold 3 Ragnarok will be made and the Galaxy Z Flip 3 Catrina Calavera will be extremely limited to 20 pieces.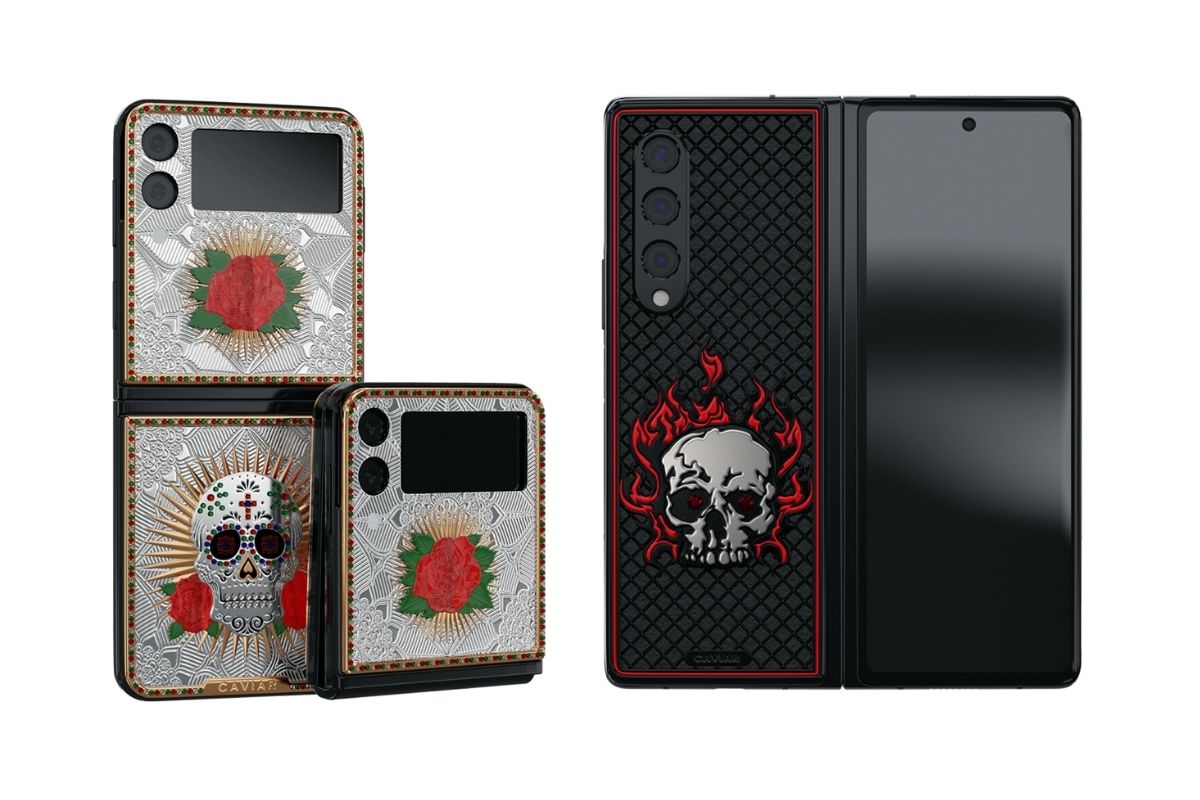 Luxury smartphone tuner Caviar makes ultra-luxury versions of smartphones in very limited quantities and at eye-popping prices. The company has now announced its take on the upcoming Samsung Galaxy Z Fold 3 and the Samsung Galaxy Z Flip 3. The Caviar smartphones have been unveiled before Samsung's official announcement, that is scheduled for August 11. The Samsung Galaxy Z Fold 3 will come with a horizontally-folding display, while the Galaxy Z Flip 3 will have a clamshell-like folding mechanism. The Caviar treatment, however, adds several flashy design elements like flaming skulls made out of rubies and red flame jewellery. Let us take a look, in photos:
The Samsung Galaxy Z Fold 3 'Ragnarok' from Caviar comes with a blackened titanium back panel with laser engravings. It comes with a skull that is made of polished titanium and has inlaid rubies. The fire on the back panel (surroundin the skull) are made of Scarlet jewelry enamel.
The Samsung Galaxy Z Fold 3 Ragnarok is priced at $10,770 (roughly Rs 8,00,000) and only 99 of these will ever be made. (Image Credit: Caviar)
Caviar's Galaxy Z Flip 3, which is named Catrina Calavera is an even more exquisite piece. The smartphone's back panel is made of tempered titanium with 18K gold inlays. There are flowers made on the upper flap that are made from a durable and lightweight composite material in red and green. The back panel comes with laser engraving and on the bottom flap, there is a skull cast from 18K white gold, a decorative frame in 18K gold, and is inlaid with emeralds, rubies, and sapphires. (Image Credit: Caviar)