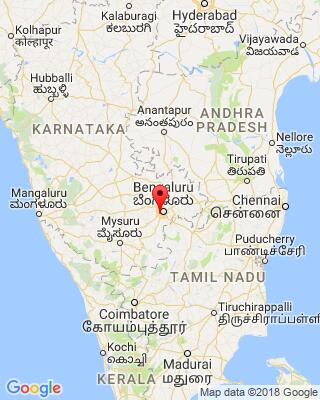 54. Rajarajeshwarinagar (RR Nagar) is a State Assembly/Vidhan Soudha constituency in the Bengaluru Urban district and Bengaluru region of Karnataka and is a part of the Bangalore Rural Parliamentary/Lok Sabha constituency. Check the table below for Rajarajeshwarinagar live results in the Karnataka Assembly elections 2018.
There are a total of 4,54,909 voters in the constituency that include general voters, NRI voters and service voters. Amongst the general voters 2,38,015 are male, 2,16,821 female and 65 others. The electorate sex ratio in the constituency is 91.09 and the approximate literacy rate is 88% INC won this seat in the 2013 Karnataka Assembly Elections with a margin of 18,813 votes (9.9%) securing 37.4% of the total votes polled. In 2013 the seat witnessed a voter turnout of 56.82%. BJP won this seat in the 2008 Assembly Elections with a margin of 19,592 votes (13.61%) registering 41.82% of the votes polled.
Elections in the seat was deferred after the discovery of a huge cache of voter ID cards and other poll related documents from a flat. Voting for the seat took place on May 28, 2018 and counting/results on May 31, 2018.
Rajarajeshwarinagar went to poll with Congress, JD(S) and BJP locked in a triangular battle. The Election Commission of India (ECI) has declared a holiday on Monday in the constituency to ensure all 4,71,459 voters exercise their franchise. Fourteen candidates, including four independents, are in the fray.
Voting in RR Nagar was rescheduled for May 28 after 9,567 electoral photo identity cards (EPIC) were found in a flat in Jalahalli on May 9, three days before the state went to polls. Congress candidate and sitting MLA N Muniratna is an accused in the case.
The constituency is witnessing a 'friendly fight' between the new alliance partners the Congress and JD(S), as talks between the allies over seat sharing in the segment failed. The BJP which has fielded Tulasi Muniraju Gowda as its candidate is trying hard to wrest the seat from Congress. Former BJP corporator GH Ramachandra, who switched sides just before the announcement of polls, is the JD(S) candidate.